Pigeon Forge, Gatlinburg and the entire Great Smoky Mountains region has something to offer all year. If you have previously visited one season and come back to visit in another season, you will find new reasons to love the area. You can ski in the winter, hike in the fall, swim and tube down the rivers in the summer and enjoy fall leaves in autumn. There's plenty of activities available year-round while others are season specific.
The big question is….when should you plan your trip to Pigeon Forge? We'll tell you what we've learned over our years of owning our cabins and hope that it will help you decide.
Average Pigeon Forge Temperatures by Month
| | | | |
| --- | --- | --- | --- |
| Month | Avg High | Avg Low | Avg Precipitation |
| January | 50 | 27 | 4.7 |
| February | 54 | 30 | 4.1 |
| March | 63 | 36 | 5.3 |
| April | 72 | 43 | 4.5 |
| May | 78 | 52 | 5.5 |
| June | 84 | 60 | 5.6 |
| July | 87 | 64 | 6.1 |
| August | 86 | 63 | 4.4 |
| September | 81 | 57 | 4.5 |
| October | 72 | 45 | 3.0 |
| November | 62 | 33 | 4.0 |
| December | 53 | 30 | 4.7 |
January – February
Once the kids head back to school after the holidays, things slow down a bit in the Smokies. This is a time of year where snow is possible. Even if it's not snowing at our cabins in Pigeon Forge, they may be making snow at Ober Gatlinburg for skiing and snow tubing. Also, it's usually possible to drive into snow in the higher elevations in the Great Smoky Mountains National Park.
Our cabins are all located in the lower elevations in Pigeon Forge, making them much easier to access than most cabins in the area in the event of snow. They are also all in resorts where the Homeowners Associations clear the roads if it snows.
This is a great time to enjoy Winterfest without the crowds that are there for the holidays. During Winterfest, the cities of Pigeon Forge, Gatlinburg and Sevierville have light displays all throughout the towns. The displays last until around mid-February.
Some attractions are closed in January and February, including Dollywood and some of the dinner shows. Due to it being slow season, you will find the lowest rates during some dates in January and February.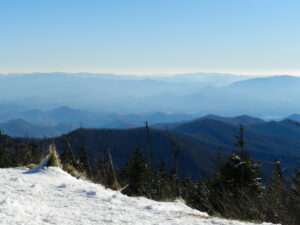 March – May
March through May brings more temperate climate. Dollywood and the dinner shows reopen in March. If you do not have to plan around a school schedule, late April until the weekend before Memorial Weekend are the best times in Spring to come for lower crowds. Here's some things to be aware of during Spring in the Smokies.

Spring Break
The area gets busier when schools have their Spring Breaks. Since people drive to the Smokies from many different states, we find that Spring Break usually goes from about mid-March through Mid-April.
Spring Rod Run
Every year in April, hot rods and classic cars flock to the area for the Spring Rod Run in Pigeon Forge. If you are a car enthusiast, you will very much enjoy coming to Pigeon Forge for the weekend of the Rod Run. Vehicles line the Parkway in Pigeon Forge while the enthusiasts cruise to see them all. All of our cabins are very close to the Parkway in Pigeon Forge, making them an ideal "home base" for those coming for the car shows (provided that you are not pulling your car on a trailer, we do not have parking to accommodate a long trailer at any of the cabins).
If classic cars and hot rods are not your thing, we recommend choosing another time to visit. It can be hard to get from place to place due to the traffic caused by those cruising to look at cars.
The Spring Rod Run dates for 2022 are April 15-17th.
June – August
June through Mid-August is a very busy time in the Smokies, since kids are out of school. If you aren't planning around a school schedule, mid-late August is the best time to come during this time span as most of the kids from Southern states are back in school.
You'll find everything open in the prime summer (with the exception of the snow skiing hills). Our cabins in Brookstone Village have community pool access. Don't miss the opportunity to cool off in more fun and memorable ways, though! Tubing, white water rafting, swimming in the streams in the national park or renting a pontoon boat on Douglas Lake are all things your family will remember forever!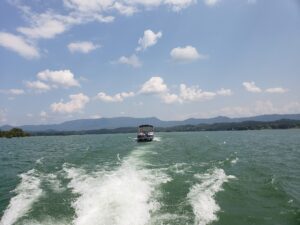 September
September deserves a heading for itself because it's a unique month in the Smokies. First, you'll have Labor Day Weekend. After Labor Day Weekend, the next two weekends and the week in-between are when we'll have another onslaught of car enthusiasts in town for back-to-back car shows / rod runs. The end of September is the quieter time, and in our opinion the best time to choose to come in September.
Shades of the Past and the Fall Rod Run
After Labor Day Weekend, the following weekend there will be the Shades of the Past car show in Pigeon Forge. The weekend after Shades of the Past, the Fall Rod Run will take place. Car enthusiasts will flock to the area for both shows, lining the Parkway in Pigeon Forge and cruising to view the vehicles. If you are coming for the Shades of the Past or Fall Rod Run in Pigeon Forge, our cabins are an ideal home base. All are located from 1/2 a mile to just about 2 miles off the Parkway in Pigeon Forge. We do not have parking for long trailers, however.
If classic cars and hot rods are not your thing, we recommend planning your trip at a different time than the car shows / rod runs because they do affect traffic quite a bit and make it hard to get around.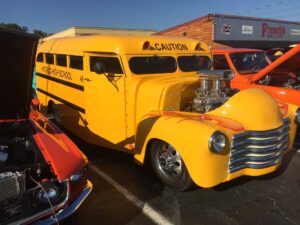 October
October brings kids on Fall Break as well as people coming to see the fall colors in the Smoky Mountains National Park. It's impossible to predict when peak colors will come each year. In fact, it will depend where you are in elevation as far as how far along the fall colors may be.
This is the time of year when the National Park is definitely the main attraction that everybody wants to see. We very much recommend visiting during the week, if you can, when it can be easier to find spots on the side of the roads to pull off or parking spots for viewing the fall colors. If the weekend is all you can manage, then we recommend waking up as early as possible and heading out to the park before the crowds.
November – December
Beginning about the first week of November, each of the cities in the Tennessee Smoky Mountains area will have a winter celebration that will last through mid-February. Pigeon Forge hosts Winterfest, Gatlinburg hosts Winter Magic and Sevierville also participates in Winterfest. During this time, there are Christmas displays and other light displays all throughout all three towns. The majority of the shows in the area switch over to Christmas shows during this time and Dollywood also has many Christmas shows and decorations. If you do not enjoy Christmas decorations and displays, this won't be your favorite time to visit the area as it is very festively decorated everywhere you look. For those who love Christmas, you're going to love it!
To keep up with the festivities of the area, we decorate all the cabins for Christmas. We put up a Christmas tree at every cabin, as well (with the exception of Southern Comfort, which is decorated – but doesn't have a tree put up). We put the decor up before Thanksgiving – as everywhere else is already decorated as well and many families gather at our cabins to celebrate the holidays with their families who live in other states.
Note that Thanksgiving, followed by Christmas/New Years are the most in-demand time periods all year long so the rates will be higher then. If you can plan your Thanksgiving supper or Christmas gathering on a non-holiday period, you can save quite a bit of money!
We don't often get snow during this time, but it's not impossible. Our cabins are located in lower-elevation areas that are not hard to access in the event of snow. Also, our Homeowners Association in each resort clears the roads if it snows.